WHO WE ARE...
Founded by David DeRose, MD, MPH, MAPMin, "Timeless Healing Insights" exists to present practical, cutting-edge health information in a way that honors and elevates the timeless truths of the Holy Scriptures.
Our first project consisted of a powerful online health program called
"Thirty Days to Natural Diabetes and High Blood Pressure Control."
The web-based program is offered free of charge to all registrants.
We next released an ongoing daily devotional based on the Christian classic,
"The Upward Look."
Voiced for the first time by Dr. DeRose, this powerful devotional has touched countless lives since its release in 1982.
Later in 2022 we are working to release a new broadcast TV series called "Timeless Healing Insights." The first season is slated to feature "Healing Insights from the Gospel of Mark" presented by Dr. DeRose.
HOW YOU CAN BE A PART….
This is a faith venture, and we are already spread very thin in both human and financial resources. Please join with us as we pray that "the Lord of the harvest… will send forth laborers into his harvest" (Matthew 9:38, NKJV).

If you would like to help additionally in a tangible way, any tax-deductible gift really helps us in our work. Here are our two most pressing needs:

$7,000/month
---
Content Production and
Distribution Costs
This includes costs for labor as well as professional software services that we use for content creation and distribution. In the summer of 2022, we also hope to launch a weekly 30-minute program suitable to air on conventional television. This will likely involve purchasing airtime as well as additional production costs.

$75,000/year
---
One Full-Time Employee
(likely filled by several contract workers)
Due to the rapid growth of this ministry, we need help with on-site administrative activities, other business and secretarial duties, network and ministry relations, etc.
Help us reach these goals...
Through January 2022, we had received contributions totaling over $60,000, with $50,000 of those funds going into equipment upgrades (cameras, lighting, etc.). If you have enjoyed "30 Days to Better Health" or any of our other programming, we welcome your prayers and financial partnership. Thank you for prayerfully considering a donation to our ministry so that we can continue to bless others.
Thank you so much,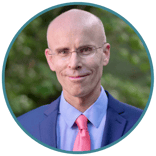 Dr. DeRose
Frequently Asked Questions...
Is my donation tax deductible?
Yes! Timeless Healing Insights is a ministry of the Fort Wayne SDA Church, which is a 501c3 nonprofit organization, so any donation you make is tax deductible. If you receive something more than the free content available on our site (e.g., a promotional book or other resource), then you must deduct the fair market value of that premium (we will list that for you).
Will I get a receipt?
Yes. Fundraise Up, our donation platform, will email you a confirmation of your donation, which will look like this: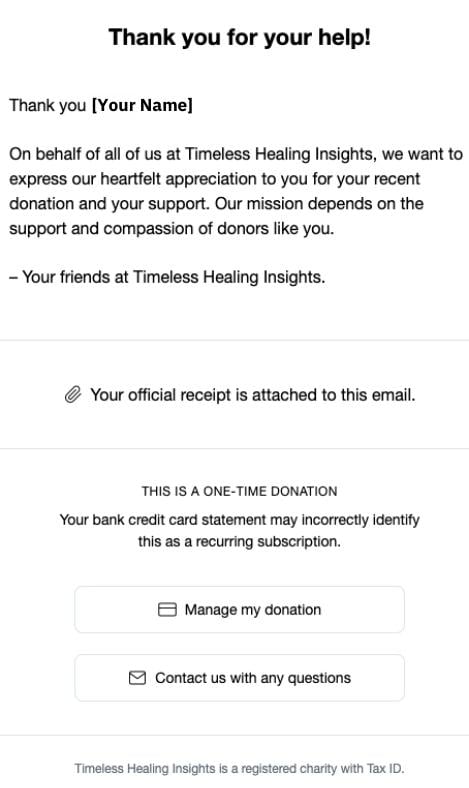 And the receipt attached will look like this: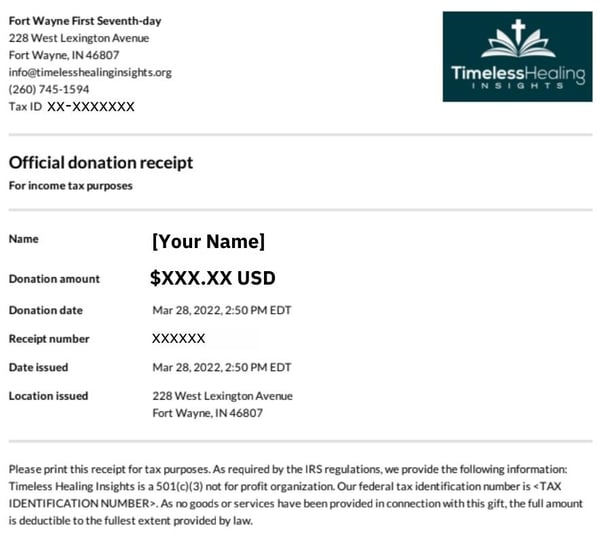 Can I see my donation history?
Yes, Fundraise Up will save all past receipts in your very own donor portal, which you can access any time.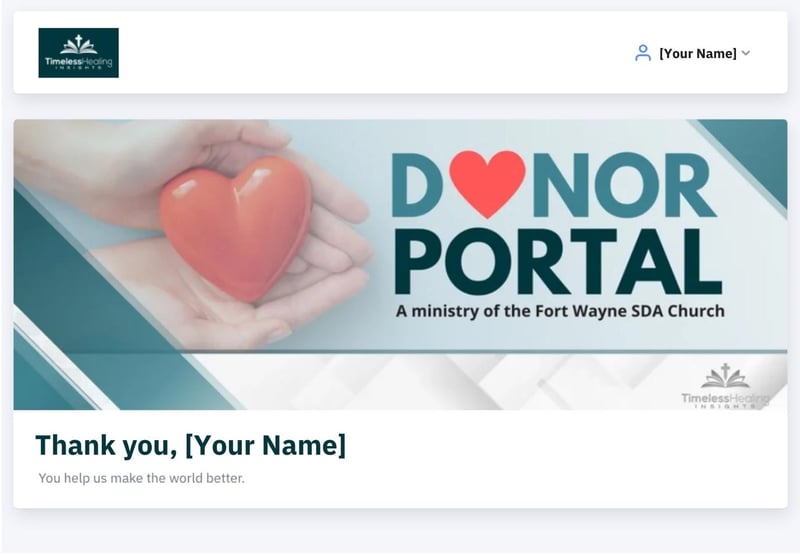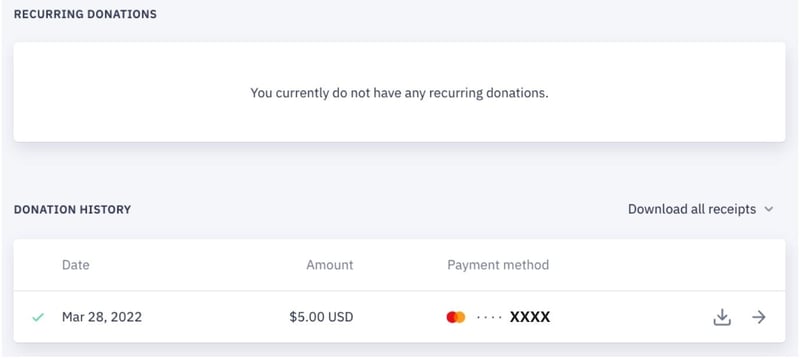 Can I change my monthly contribution any time?
Yes. By logging in to your Fundraise Up portal, you can make changes to your donations any time.
How do I set up my online account to manage my donations?
*This is a ministry of the Fort Wayne SDA Church (Tax ID: 35-2141044).